Case Study
Large Group Train Travel for a Chain of High Street Restaurants

Trainhire.co.uk is the low-cost option for rail charters, renting an entire train privately or single carriages and for easy bookings for large group travel.

We arrange great value group travel across the entire British rail network for group organizers, event planners, PAs and conference planners.

Train Hire makes it simple for anyone organising travel for groups of 100+ passengers to rent a train, offering all available options to the client from no frills to luxury and special event travel.

A single contact handles the booking from start to finish, advising on costs and options, and arranging the train travel.

Train Hire recently arranged group travel for employees of a leading High Street restaurant chain who were being rewarded for outstanding performance. Travel was from multiple start points throughout England to the event venue.

For large group train bookings on scheduled trains, Train Hire either rents or attaches private rail carriages or arranges for the group to sit together in public carriages.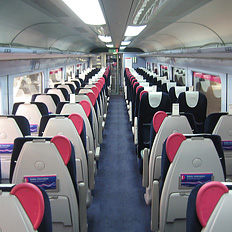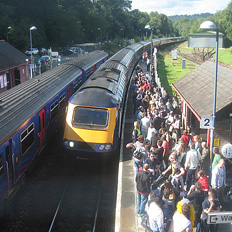 Organising rail travel across a rail network, especially involving with more than one route, can be a complex planning process; Train Hire is accomplished and experienced at managing such bookings on behalf of group organisers.
Many lower cost residential venues are distant from the major cities of the UK. Train Hire's services make them more accessible to a range of organisations such as associations, faith groups and companies who need conference accommodation for larger groups. We work closely with venue managers in arranging transportation including transfers.
Simon Pielow of Train Chartering, the company behind Train Hire, says, "Train Hire is a valuable resource for both group organizers and venues in delivering cost-effective rail travel for visitors or delegates. It makes sense that any group organiser or M.I.C.E professional should contact us to find out what solutions we can offer. We can offer an almost endlessly tailored service to meet any budget or event requirements.
Notes:
M.I.C.E - the definition of the acronym is Meetings, Incentives, Conferences & Events) and refers to a broad range of group, hospitality and incentive professionals who plan large events.
Case studies:
Scotland to London, Return, From Only £75 And For a Good Cause, Cancer Research
The Caledonian Chorister is a special train, taking participants from Scotland to London for the Cancer Research Festival of Brass and Voices.
Charter Trains to Conferences and Demonstrations
Trainhire.co.uk, the low-cost option for rail charters and booking large group travel, offers high capacity trains for hire across the entire British rail network.
Sign up for special offers: