Group Travel
Trainhire.co.uk is a specialist train ticket booking service for large group travel of 100 passengers
or more.
Large Group Train Travel
Trainhire.co.uk specialises in train travel for very large groups over 100 passengers.
We can transport up to 700 per train and over 3000 per day.
Fares & Booking Made Simple
By booking direct with us, you have a single contact for your entire booking, avoiding complicated planning and multiple bookings with different train operating companies.
Discounts & Savings
By privately booking very large groups on trains we can often obtain discounts and savings which we pass on to you.
A Single, Named Contact
You'll have a single named contact for your private train rental who you can contact directly with any questions.
UK & Europe
We can help you with bookings in the UK and also across the European rail network.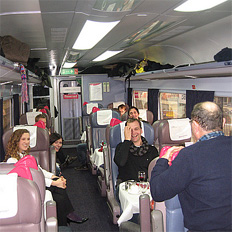 Benefits
Cost effective for large groups of 100+
Rent private train carriages
Avoid complicated bookings with
multiple train companies
Managed queuing
Extra luggage cars available
Group dining options available
Popular Uses Include:
Large group tickets to London
Schools, colleges & universities
Trade union meetings
Choirs & orchestras
Scouts & girl guide groups
Conferences
Travel to demonstrations
Rugby and football matches
Other sporting events
Contact Us
To start planning your journey with us, please contact us with details of your train journey.
Case studies:
Scotland to London, Return, From Only £75 And For a Good Cause, Cancer Research
The Caledonian Chorister is a special train, taking participants from Scotland to London for the Cancer Research Festival of Brass and Voices.
Charter Trains to Conferences and Demonstrations
Trainhire.co.uk, the low-cost option for rail charters and booking large group travel, offers high capacity trains for hire across the entire British rail network.
Sign up for special offers: